It's without doubt that today's most successful businesses are leveraging market research and data to gain competitive advantage and highlight emerging opportunities.  It could be argued therefore, that marketing without rich data is no longer viable in a digital age. Historically, CMOs have relied on gut instinct to make decisions, but marketing is now a science. Insights derived by a combination of big (quantitative) and thick (qualitative) data are now critical for competitive survival.
Obtaining relevant data isn't a problem
In the past, obtaining relevant and reliable market insight and data hasn't been easy. Costs were prohibitive and some questioned the authenticity of the data – how it was farmed, its quality, and therefore its value. Digital exclusion also formed data biases. For example, internet data was skewed in favour of tech-savvy first-world audiences, with insight lacking for other demographics. With more recent improvements in accessibility, greater internet coverage and more affordable devices, there is now far greater data diversity. It's estimated there are 4.39 billion internet users and, as the internet of things expands, so do our digital footprints, making the amount of available data endless.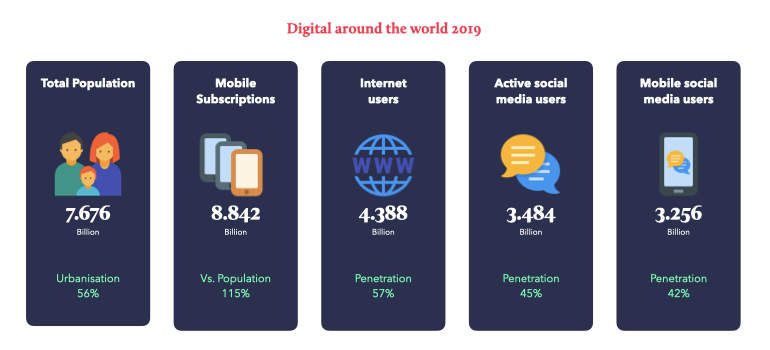 By 2020, every person will generate 1.7 megabytes in just a second.
(Source: Domo)
What's more, affordable automated technologies such as machine-learning and predictive marketing services are making data more meaningful to all – including your competitors. Despite all this, many organisations are not fully leveraging the opportunities market research data can offer. But if access to real-time information is no longer the problem, what is?
Business challenges
It's not always easy to show the value rich data can bring to your business, let alone integrate into everyday operations.
As with any business transformation, there are obvious barriers to overcome, like buy in from stakeholders, as well as securing money, time and suitably skilled people. On top of that, there are also other, less obvious issues to deal with…
Market research is only valuable if you act on it
From the same research, different decision-makers can come to different conclusions, taking opposing views and actions.
23% of businesses (25% in Europe and 22% in North America) lack the insight application capabilities required to deliver a return on information.
(Iron Mountain)

Only 1⁄5 feel confident in their ability to make changes to their business based on insights from customer feedback or their ability to review implications that cut across the organization.
(Temkin, State of Voice of the Customer Programs, 2019)
Return on investment (ROI) of market research is difficult to calculate
Not having clear ROI can make it hard to create a compelling business case needed to build trust and adoption from stakeholders across your business. Throughout this chapter, we'll show you how you can start addressing this challenge.
A strategic and fully integrated approach
Research data and insights need to regularly inform all areas of the business. Therefore part of your strategy should be to provide your colleagues with signals as early as possible, giving them time to understand and adapt to shifting consumer sentiment and trends.
Evolve customer understanding beyond transactional data
Businesses need to move beyond basic transactional and quantitative data. Alone, market data can give an indication of 'what' is happening but doesn't give the reasons 'why'. Therefore, you need to combine data with qualitative behavioural insights to provide greater meaning.
73% of marketeers rate their company as 'mature' in meeting customer business needs, yet 68% are actually at the 'beginner' stage.
(Forrester)
A holistic view driven by a set of varied data sources
Data sources need to be carefully selected based on questions it can help answer. With this in mind, it's best to consult with data-literate researchers when selecting which data mix to source. Clearly overcoming such challenges requires commitment and effort across the business, but effective market research will bring market insights and business opportunities that far outweigh any risks brought about by inaction.
A large number of businesses believe they are lagging behind their competition in use of data. It's plausible many will think the data challenge is too complex, too high a mountain to climb, particularly when balancing limited resources with other business challenges.
Yet information is power and leveraging data leads to a greater knowledge and understanding of market trends, customer behaviours, beliefs and sentiments. This empowers decision makers to take smarter actions, such as:
Building internal empathy with your customers and their needs
Effectively targeting customers (e.g. with marketing automation)
Reducing risk of business and service failures
Avoiding guesswork and investing in poor marketing strategies
Producing innovative customer engagement campaigns
Creating an evidence-based CX roadmap spanning all channels and service touch points
Creating clearer brand values and messaging, helping to build authenticity, trust and advocacy
More than 55% of consumers will consider company values when making a buying decision.
(Forrester: Predictions 2020)
Making data work
Data is useless if the analysis and translation is kept to a privileged few. A significant part of effective research is making market insight accessible and meaningful to all. This doesn't just mean who you share it with and how often, but also how it is presented and what questions it answers.
72% of companies don't review customer experience metrics or share them with all employees regularly.
(Forrester, 2016)
If made relevant, tangible and meaningful, your insight will resonate across departments, including the exec and business partners. Bringing people together under a common and shared understanding of current market trends and conditions helps facilitate and inform decisions at all levels.
Inspire change
In some cases, data will expose future business threats and weaknesses, giving you time to take control, adapt or pivot before it becomes a bigger problem.
Often new insights will also be the spark that ignites inspiration and creativity amongst your team. From this, new business, connections and opportunities will surface that would have normally gone uncovered. These can be short term, tactical changes as well as longer term, strategic decisions on operations and/or service direction.
The result of all of this is that internally people start to engage and build trust in the value that data brings them in their own roles. Over time they will develop a thirst for more information to answer subsequent queries or opportunities for future change.
Organizations with a cross-team approach with a customer at the heart of all initiatives are nearly twice as likely to exceed their business goal by a significant margin.
(Econsultancy, 2018)

79% of employees in CX leading companies are engaged, compared with 49% in the companies with CX below average.
(Temkin, 2018)
Looking at the bigger picture
Many businesses have free or affordable out-of-the-box analytics systems in place and spend what little time they have experimenting with its default settings and functions. Most will set up their system around their website activity and monitor baseline performance matrixes such as lead or sale conversion goals. Although very useful, this provides a very narrow view of the world.
More digitally mature organisations are seeking to evolve their customer information beyond end-game transaction behaviours. They want to get sight of the bigger picture, the full end to end customer experienced the contexts in which they are being judged.
Combining contextual, qualitative insight with live quantitative data is key to achieving this.
Source of truth
The phrase "crap in, crap out", is widely used in the research profession for good reason. Basing decisions on skewed or poor data is risky at best and a fool's game at worst. What's more, if the worst does happen, any credibility and trust in market research quickly evaporates – sending you on a backwards journey.
That's why it's worth taking the time to think holistically and form a clear strategy with other stakeholders around which data sources will be relevant, reliable and feasible. The end goal here is to agree on data sources, that when combined, provide a full and well-rounded view of your target customer and market.
Data sources you should consider
Live management information (MI) dashboards across branded digital channels
User generated content from open source public channels such as social, forums, user reviews
Direct, 1-2-1 feedback such as interviews, surveys, user testing
Big data, and cognitive AI services like Microsoft Azure
Market insight, industry reports and news such as those from Forrester or government
To leverage such a rich array of data, smart businesses are looking to fully integrate their chosen solutions into their digital 'eco-system'. This is not always considered simple. However, with cloud-based integration services and simple plug-and-play APIs, it's getting easier and can always be phased over time.
Translating data into actionable insight
As you might have gathered, those with instant access to relevant real-time information have a significant advantage over many of their competitors – but only if they are skilled in data interpretation. Market research is most powerful when technology and human expertise are combined. This is mainly because data often provides evidence of 'what' but doesn't provide the reasons 'why'. Data needs to be analysed and interpreted by an experienced researcher and subject matter expert for it to become more meaningful.
You need to be able to recognise patterns of behaviour from multiple data sources. Doing this is not easy, it requires skill, experience and patience. It's only when credible patterns are found, hypotheses can be drawn, and actionable recommendations made.
In the attempt to save time and effort some are tempted to do this themselves without training or knowledge. However, this can be risky. We've seen this lead to confirmation bias, where individuals look to prove themselves right or support their own agenda.
Smart organisations recognise this and have embedded data-literate market researchers within their team or are outsourcing this to a strategic partner to provide impartial recommendations.
Data Ethics and GDPR
Focusing on personalisation means marketers need to capture personal information but, however anonymous that data may seem, it's critical to have a clear policy on the use, management and security of personal information for legal, GDPR purposes.
It's also worth considering going beyond current GDPR rules. This could include investigating where and how purchased information is sourced and what biases are inherent from the methods used, or what messages it could be driving.
Some go as far to set their own ethical standards, policies and governance. GOV.UK has devised a useful data ethics framework workbook which helps organisations align their work with sound ethical choices.
Summary
Technology has empowered consumers with greater choice, availability and transparency, meaning marketers have to rapidly respond and compete across multiple channels and international markets.
On the flip side, data capture empowers tech-savvy marketers with live market trends, sentiments and customer insights, highlighting potential opportunities.
The good news is access to relevant data is no longer exclusive to big corporations, it's plentiful and affordable to all. The bad news is the integration and consolidation of complex data into meaningful insight and actions is not so simple.
However, the business benefits gained from effective market research far outweigh the effort needed to overcome any internal hurdles and/or business risks caused by inaction or 'blind' decisions.
Organisations that have invested in and effectively leveraged insight-based marketing are gaining the advantage.
Here are just a few examples of how it could benefit your business:
Greater understanding and empathy with target customers
Stronger, more relevant brand messaging and differentiation
Innovative, engaging and timely marketing campaigns
Effective and efficient use of budget and resources
---
Photo by Emily Morter on Unsplash