So, you know why you should take a customer centric approach and what the benefits are. The next question you're probably going to ask is "How do I get started?".
Why should you consider changing to a customer centric strategy?
1. Do or die
Other businesses are using a customer centric approach to great effect such as Amazon, Apple and McDonald's, if you don't embrace a customer centric strategy, there's an increased risk of being left behind by the competition.
McDonald's has rolled out touch screen kiosks in order to reduce waiting times. In order to make the transition easier from in-person ordering to digital self-service, McDonald's restaurants made a member of staff available to assist people.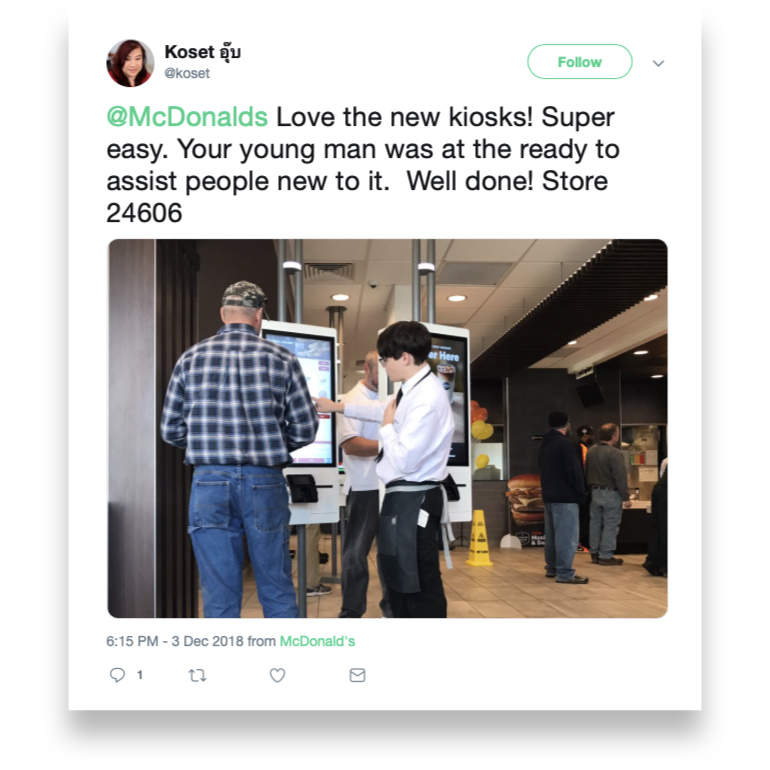 You can now order your meal on the mobile app as well and collect in the restaurant making it even more customer centric.
2. Winning the zero moment of truth is becoming increasingly important
Prior to buying a product or service, customers search for information that will enable them to make an informed decision. This behaviour is often tethered to the moment when a person has an unfulfilled need or they're looking for an answer to a specific question, Google describes this moment as the Zero moment of truth (ZMOT).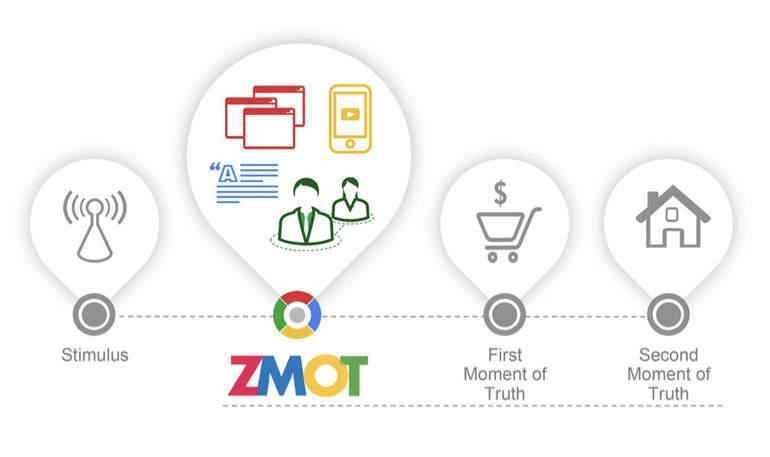 88% of U.S. consumers now engage in the "zero moment of truth" prior to making their final decision according to Google.
This is a key moment when customers are fully engaged and where there's the greatest opportunity for organisations to capitalise. However, this is the moment where there's the most competition.
We have seen a behaviour in our user research where customers visit the first few websites of their returned search results, to compare brands on factors such as, price, website experience and trustworthiness.
People will reference peer review platforms such as Trustpilot to read about the experience other people have had with the brand and how they have rated them in order to assist in making a decision. If the customer experience is not to a sufficient standard, customers will choose another brand resulting in financial ramifications.
An example of how flaws in a company's customer experience can affect their business is the American Airlines PR crisis. In 2017 there was an incident on a United Airlines flight where a passenger was removed from the aircraft by security for not getting off the overbooked flight.
Forbes' Shep Hyken wrote:
Companies are recognizing the importance of delivering an experience that makes them stand out from their competition. Some are learning the hard way. Last year (2017) United Airlines had a brand crisis, in which $1.4 billion in value was wiped out overnight when a passenger's experience went viral on social media.
3. Increase lifetime value of customers and reduce churn rate
Building strategies around your customers should help to increase the customer lifetime value (CLV) and increase customer retention.
These customer experience and marketing strategies should focus on both new and existing customers. It's easy to forget about the customers you have and focus on acquiring new ones.
Econsultancy found that:
According to Marketing Metrics, the probability of selling to a new prospective customer is 5%-20% whereas the probability of selling to an existing customer is 60%–70%.
What are the benefits to the customer?
Frictionless and delightful experiences that fit in people's lives
As people have busy lives, providing experiences that are efficient, save time and meet their needs in the moment provides real value.
The following is from article in The Independent about stress and work pressures:
More than six out of 10 admitted struggling to keep their life organised with everything they have going on. Forty six per cent wish they could reduce the amount of time they spend ticking off mundane life admin tasks and chores.
But the survey, carried out via OnePoll.com, found the average Brit is still only able to find 73 minutes a day to themselves between work pressureschores and general life admin.
On top of that, if an experience is designed in such a way to provide a delightful experience, you can set your brand apart from the competition and provide a differentiator which could be the deciding factor between a customer choosing your brand over the competition or not.
Uber for example, provided a ground-breaking experience of scheduling a taxi ride with the ability to track where the driver is and the expected arrival time.
First class customer service
Customers are seeing the benefits of businesses taking a customer centric approach when it comes to customer support.
Take for example Amazon whose customer support system is first class. With Amazon, customers enjoy being able to contact them about a service or product at any time of day across multiple channels. They trust their customers and often go above and beyond in keeping their customers happy.
Amazon also show great trust great in what their customers tell them and often provide full refunds or exchanges without quibble.
How do you get started creating a customer centric experience?
So, you know why you should take a customer centric approach and what the benefits are. The next question you're probably going to ask is "How do I get started?". Well, outlined below are some things to consider.
1. Ensure you understand who your customers are and their needs
A good place to start with research is to identify your most loyal and valuable customers to ensure you're serving their needs. You should have more data about these customers which will make it easier to analyse and create patterns from.
As you also know more about them, their behaviours should be more predictable and consistent so you can build a strategy around them. It's difficult to build strategies for those customers who are inconsistent.
You could also look to identify who your early adopters and advocates are. These are the customers who will be most likely to share their great experience of your company with their friends, bringing more customers with them and therefore more profit to your organisation.
2. Understand how your experience is better than your competition
Conducting a competitor review to get answers to questions such as:
Do you know how your customer experience is different from your competition?
What feature benefits in the form of 'Delighters' does your product or service offer that the competition doesn't?
Do you have all of the 'Must have' features that customers expect?
3. Ensure you have a clear value proposition for your service
Do you know your value proposition? Can you articulate it quickly? A clear value proposition can help to determine how your service is relieving your customer's pain points. A great place to start putting one of these together is by leveraging Strategyzer's Value Proposition Canvas (See figure 1).
4. Understand your ecosystem
Ensure you have a full understanding of the ecosystem of technologies and people who support or are responsible for them. This will help understand how the end-to-end customer experience is supported from an organisation's perspective 'backstage'.
3. Define the future state of the service experience
Once you understand of the current state of your customer experience, a great way to define where you want to be, is to map out the future state. This can be done through a method called future state service blueprinting.
Future-state blueprinting focuses on imagining what the new service experience could be like for both the user and the organisation. When imagining what the new service experience could be, there are a number of factors that are considered, such as the needs the new service is meeting, the problem to be solved by the new service, the business case for the new service, how the service fits within the business strategy and roadmap, what the new experience will be, the feasibility of delivering and maintaining the new service (See figure 2).
Future-state blueprinting helps with defining how both online and offline experiences could be improved. An example of this could be integrating the website CMS with CRM systems so you can adapt the experience online based on offline behaviours.
6. Partner with other customer centric organisations
Partnering with other businesses who are also customer centric can enable you to learn how they have implemented their strategy.
7. Customer centricity should run through your organisation and your suppliers
You have to make a real commitment to be a customer centric company. It needs to be ingrained in your company DNA and principles. It needs run through your organisation from your employees all the way through to C-level and back again. It should become the company culture. It shouldn't be something you just say because it sounds good. Make it the core of your digital transformation programme.
Your suppliers are an extension of your organisation, a customer centric culture should also be the mindset of your suppliers if they are operating on your behalf. If a customer has had an amazing experience with buying a product but then the delivery driver from a 3rd party supplier leaves the package on the roof of the customers house, this reflects on the overall experience.
Conclusion
Ok, that's quite a lot to take in and there's a lot of work to be done to become truly customer centric. It's also something that you can't do alone, you need other people to help and drive things forward.
Think of the analogy of one person pushing a bolder up a hill, it would be next to impossible.
If one or two people join the cause to help, you can start to develop some momentum and feel like you're making progress.
When you get more people buying into the concept that's when things really start moving, you reach a tipping point at the top of the hill where you have enough people pushing in the right direction that things become easier.
The key thing is to start small, get the right people involved and show people the positive impact your customer centric initiatives are having. It's a good idea to work to the motto of "show not tell".
---