As the seventh most popular website in the UK, it's amazing how many people are unfamiliar with Reddit. For perspective, Twitter is tenth. Add to this the fact that Reddit has a longer dwell time than Facebook, YouTube and Twitter, and you've got yourself a pretty significant platform. So if you're in the business of content or marketing, you need to at least understand what it is and the potential on offer.
What is Reddit?
The self-proclaimed 'front page of the internet', Reddit is a platform which houses user-submitted links of content from all over the web. It's essentially a massive exercise in content curation that's constantly changing, which can touch on everything from super-shareable GIFs of cute animals, to political commentary, financial advice and Q&As.
Of course, if you've got people from all over the world submitting hundreds of thousands of links, it's easy for that 'front page' to become chaos. To help users find content they're interested in, there are also 'subreddits' – communities centred on a particular topic or theme which users can subscribe to.
It's the community-centric aspect of Reddit that makes it so different to other platforms. This is where memes, trends, and controversy live and die. People don't just come to Reddit to see what's going on online, they come to engage. That can be through posting, commenting, voting, subscribing, or otherwise.
So alongside great dwell time, there's intrinsic segmentation by interest and a direct line to those people. See why you should've heard of Reddit now?
What are the opportunities for brands and publishers?
Reddit has a bit of a messy history, particularly around unsavoury subreddits and 'hivemind' behaviour, so marketers could be forgiven for steering clear. Still, the platform is making a concerted effort to crack down on bad behaviour and tidy up its image without losing the essence of what makes it unique.
Publishers have been wise to the power of Reddit for some time. Some of the internet's most popular publishers – the likes of Ladbible, Buzzfeed, Lifehacker and Mashable – are renowned for using Reddit to 'inspire' their own content. That is, trawling through a popular 'AskReddit' thread and then offering up 'the internet's best dating tips' or 'the top 5 apps according to Reddit'.

Source: Pocket
Publishers can be doing far better than that. Reddit itself recognised this and began offering user profiles. The key to success is not to simply 'broadcast' your posts – you might as well stick to your website if that's your intention. On Reddit, you need to create content and participate. Travel company Atlas Obscura is doing a pretty good job of not just taking part, but using the platform to create content in a transparent way.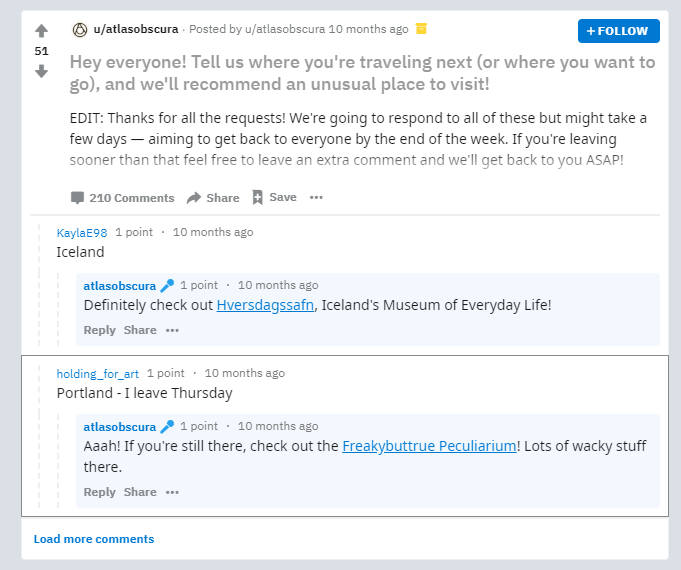 Source: Atlasobscura
They also don't shy away from posting content to other communities and talking to users – even if it's not the most interesting interaction, it's tonally spot on: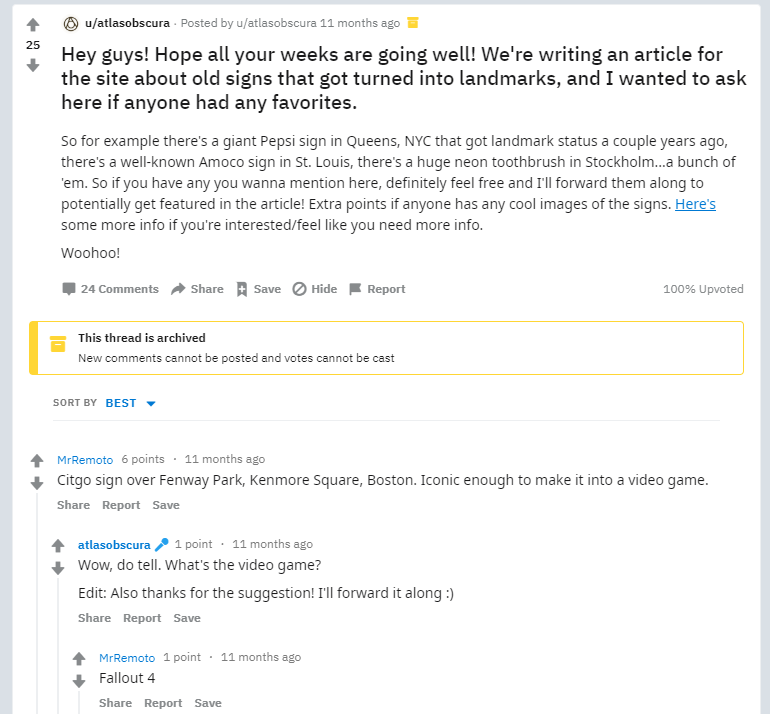 Source: Atlasobscura
For brands, it can be a little trickier. To make a bit of a generalisation, Redditors tend to be protective over the integrity of the community and don't respond well to obvious marketing. Many subreddits outright ban it in the interests of keeping content purely user-generated – so brands with profiles are still working out how to add value.
Targeted advertising campaigns tend to be more successful, with transparency and authenticity going a long way. Search Engine Journal analysed a superb example of this in action. Transamerica, a sprawling insurance and investment company, ran a campaign offering to explain the intricacies of personal finance. Redditors were naturally sceptical, but were met with genuine responses from Transamerica staff.
Source: TransamericaLauren
Not only did Transamerica use Reddit to go straight to the source and find out what prospective customers needed to know, they created content they knew would be useful off the back of it. That's knowing how to use the platform to its full potential.
So what now?
Reddit offers you the chance to be an active participator in your audience's conversations – either as a user or an advertiser. If that interests you, I'd recommend taking a look at Reddit's own best practice tips, as well as considering the following:
Get to know how the platform operates before going any further. This goes without saying, but get to know the front page, the subreddits, and how users interact.
Decide whether Reddit is the right place for you. Is there a way you could add value to users as well as extracting value from them?
Do you have the time and resource to be an active participant? This might dictate whether you sign up at all, or if you opt for a profile or time-boxed campaign.
Be prepared for users to 'see through' your marketing. Decide how you might respond to negative comments – be clear on what you are trying to achieve and be transparent about it.
Reddit is a great platform with plenty to offer. Ultimately, if your priorities match those of the communities you want to participate in, you should have a pretty good time. Good luck!